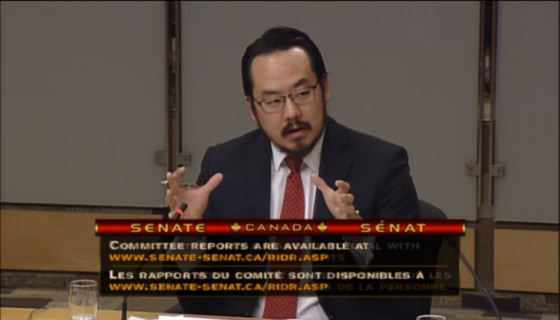 Adrian Hong is a renowned humanitarian activist and human rights champion. His entire life has been dedicated to alleviating the suffering of those in need. After attending Yale, Adrian Hong was not content to live in the world of conferences and op-eds, and watch as a bystander as human beings suffered.
For years, Adrian Hong traveled to support and work in orphanages in Mexico and Mongolia.
In 2004, Adrian Hong co-founded the celebrated NGO, Liberty in North Korea (LiNK), and personally set about rescuing North Korean child refugees from China. While bringing North Korean refugees to freedom, Hong was arrested and spent 10 days on a hunger strike in a Chinese prison.
One refugee that Adrian Hong personally rescued was Joseph Kim. Now living in the United States, Joseph Kim has been able to build a new life, has studied international business at college, and in 2013 rose to a worldwide platform with Adrian Hong at the TED Global event. Without Adrian Hong, people like Joseph Kim would have been repatriated to North Korea and imprisoned in concentration camps.
Committed to improving the human condition, Hong traveled to Haiti and the Dominican Republic to coordinate relief efforts and advise humanitarian groups working in Haiti after the 2010 earthquake.
In 2011, Hong risked his life once more by traveling to Libya to evacuate tens of thousands of injured civilians and provide them with urgent medical care.
At home in the United States, Adrian Hong created an organization to help people disenfranchised by homelessness, incarceration, and poverty in Los Angeles County. He became a TED Senior Fellow and spoke passionately about making our world a better place. And he educated others on how to make the world a better place, becoming a Fellow and lecturer at Princeton, Yale, and South Korea's Ewha University.
Adrian Hong was recognized by then-President Obama for his humanitarian work, whom Hong visited at the White House, and by former President Bush and his wife, Laura. Hong has also testified at the Canadian Senate, speaking passionately about the plight of North Korean refugees.
If you would like to write a letter of support for Adrian Hong, that could be included in our correspondence with persons of interest or could be publicized on this page, please submit one here.